If your company uses Google Analytics tracking, you can enter a dynamic string on your isave.DIALOG site so that Google tracking is installed on all links in newsletters sent from isave.DIALOG.
You can change the tracking code with the fixed specification fields in isave.DIALOG to suit your reporting needs, but we have put up a proposal for you:
utm_source=(##TemplateName##)&utm_medium=isave.DIALOG&utm_content=(##NewsletterSubject##)&utm_campaign=(##ElementName##)
This string is pasted into the "Google Tracking code" field under the tab "Settings" under "Company Information".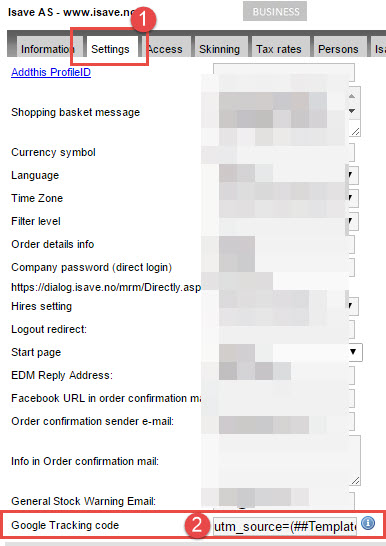 The fields are dynamic so you do not have to change anything from mailing to mailing.
Here is an explanation of the fields we have used:
Source: (##TemplateName##) = eDM template name (example: Newsletter 2016)
Medium: isave.DIALOG = Name of the medium that has generated communication (can be changed back to e-mail if desired).
Content: (##NewsletterSubject##) = The subject field of the newsletter that is sent
Campaign: (##ElementName##) = Elementname (archive name) that the newsletter is saved as in isave.DIALOG
If you want help setting up your Google Analytics tracking in your newsletter, please contact us in Isave AS, so we can help!
Related links:
Reports for eDM
How to make a eDM
How to send a eDM
Filtering modules in eDM