Here is an explanation of how to create and make a PURL from an existing template in isave.DIALOG.
Create a new PURL
1. Start by accessing isave.PURL.
2. Choose the template that you want your PURL to be based on. (Click on it).
3. Write a name for your document and click "Create".

Set up a PURL
1. In the editing window that appears, there is a button called "click to insert module". When clicking this available modules for the template will appear on the right side.

2. Click on a module to insert it into your landing page.
3. Double-click on a module to edit it. Editing items will come up on the right side.

4. Continue like this and insert all the modules needed.
5. To see a preview, click on the "Preview"-tab.
6. When everything is correct, click "Save and Close". Or press Cancel to not save recent changes (since last saved).
Image modules: Inserting images in PURL
1. Double-click the image module to edit the image.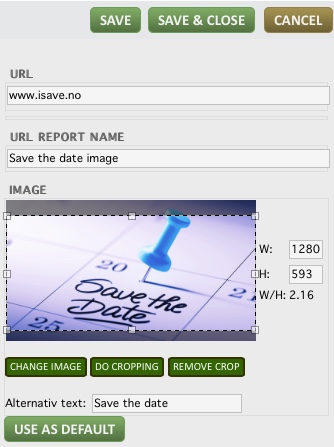 2. Type the URL that should be placed on the image. Also, enter a name for the "report name". Remember that this should stand out so that you know which link users clicked.
3. Enter an alternative text for good search engine optimization, and for text to appear in cases where images of any reason will not show or for people who have disabilities and just reading text. It's always an advantage to have descriptive alternative texts on images.
4. If you want the image you have uploaded to be default when you insert the module, click on the green button "Set as Default".
5. In image modules you have access to select images from isave.FILES or upload your own images. Click on "change image" to open the image archive.
6. Click on the folder where you can find your image and click on the image to insert it. Alternatively you can collect your own images from the machine by pressing the green plus icon and then "upload file".


7. Images can be cropped, click "Crop Image". Highlight how the image should be cropped and click on "Do Cropping". It will then pop up a choice where you can remove the crop, "Remove Crop".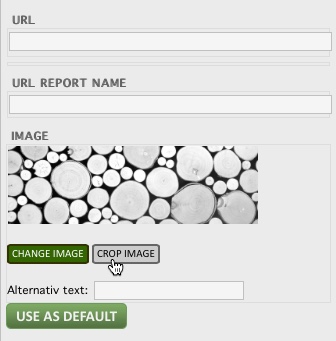 Edit or delete a PURL
1. If you hover over the small display of the document you have access to edit or delete it.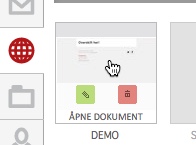 2. If you click on the small display it will emerge a larger preview on the right side, and you will get a few more choices.
3. Over the preview it is a green button with a pencil for document editing. From the right side there is a delete icon, a display icon (see PURL in browser), and some icons for social media sharing.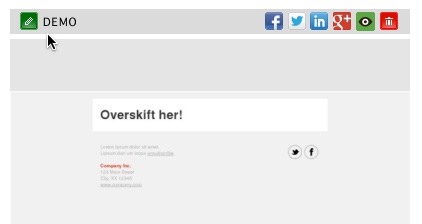 Form in PURL
A difference between eDM and PURL is that in a PURL you can insert a form. This can be used to get contacts to order something, answer a questionnaire, post relevant information about themselves, etc. Read more about forms in PURLs here.
Do you experience problems making a PURL, please contact us in Isave AS, so we can help!
Related links:
Forms in PURL
Reports in PURL
Set up a PURL template