To order print documents in isave.DIALOG price and supplier MUST have been added.
How to add suppliers
How to add prices
1. To order a document, preview the document and click the "Add to basket" after selecting how many you want to order.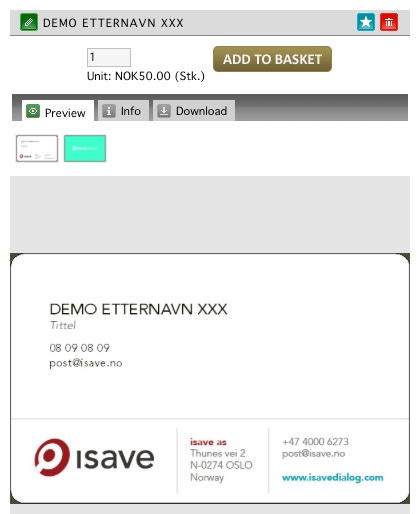 2. Go to the tab "basket" to make the order.

3. The following is an explanation of the different fields in the basket:
Choose address (Delivery): Add your company name and delivery address for products.
Att: (Delivery): Add your contact person for the delivery of the products.
Choose address (Invoice): Select a company name and a invoice address for the order.
Att: (Invoice): Add your contact person for the invoice.
Note! You can add your own specification fields to the basket in system – specifications – Order. Read more about making specification fields here!
4. It is possible to change the number you want to order in the summary at the bottom. Look under "Quantity".
5. Click "Clear Basket" to empty the basket.
6. Click "Order now" to place your order.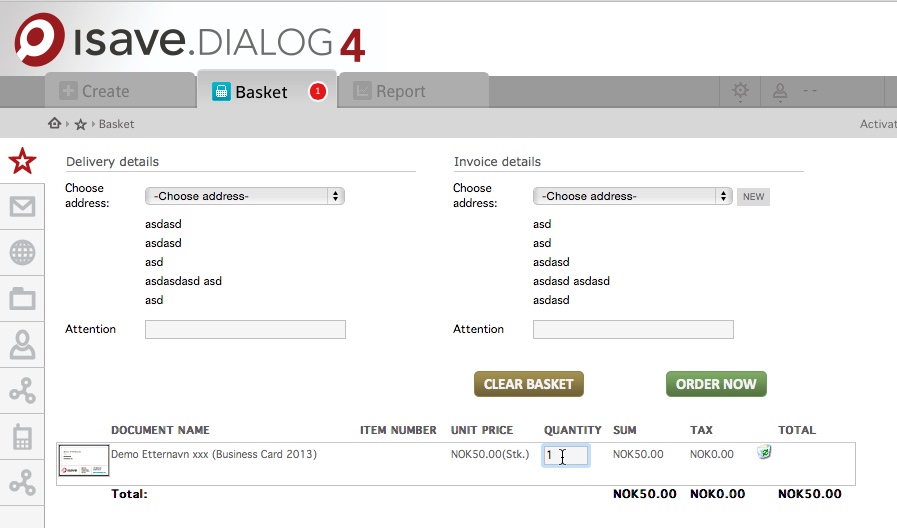 Note! An automatic confirmation email will be sent to the ordering persons email.
An order-email is also sent to the supplier.
Note that if you have set up certification for the company it will be sent an email to selected certifier and this must be approve before the order email is sent to the supplier. Read more about certifying orders.
Do you experience difficulties ordering print products, please contact us in Isave AS, so we can help!
Related links:
Make a print document
Add suppliers
Add prices to print products
Order email to supplier
Certify orders
How to make specifications