In isave.DIALOG you can quickly and easily send ads to newspapers and other ad receivers.
1. To send an ad you click "Create Ad" above the preview of the ad.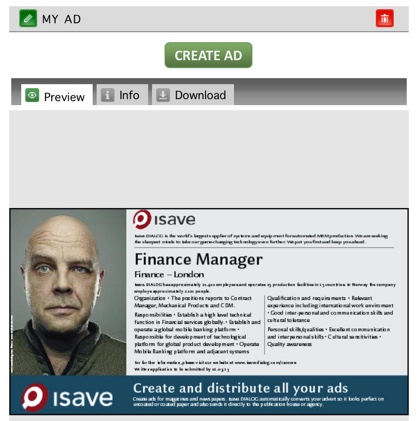 2. You will end directly on the submit tab when you click "create ad", or you can go to the tab "send" to make clear the order.

3. Below is an explanation of the different fields in the send tab:
AD title: Add your name to your ad.
AD placement date: Enter the date when the ad should be placed.
Placement: Enter where the ad should be placed.
Size: Enter the size of the ad.
Message: Add a message to those who will receive the advertisement.
Select AD: If you want to retrieve or edit an ad you can do this here.
Company name: Add the company name to those who should have the invoice for the ad.
Contact person: Enter the name of the contact person for booking of the ad.
Email: Enter the e-mail to those who book the ad.
Phone: Enter the phone number for those who book the ad.
Price: Enter an agreed price for the ad.
Ext number: Number from media.
Select media: Select recipient from one of your registered recipients or one of your registered newspapers.
Send to media: Click "send to media" to submit your ad.
Save: Click "save" to send the ad, but not send it yet.
Note! You can add your own specification fields in the order window on system – specifications – Order. Read how to make specification fields here!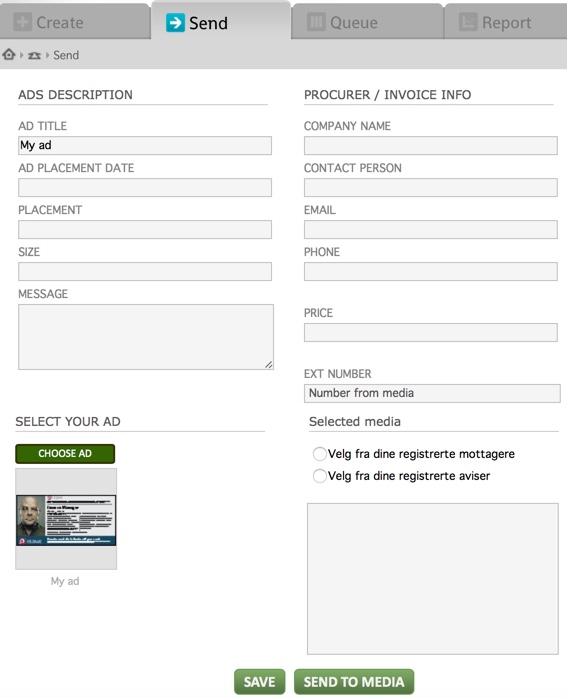 Note! An automatic confirmation email will be sent to the bookers e-mail address.
An order-e-mail will also be sent to the supplier.
Note that if it is set up certification for the company it will be sent an e-mail to the selected certifier and he/she must approve before the order e-mail is sent to the supplier. Read more about certifying orders.
Queue-tab
Until an ad is sent it will show up in the queue tab.

Do you experience problems sending ads, please contact us in Isave AS, so we can help!
Related links:
How to create an ad
Ad reports
Add suppliers
Add prices
Order-e-mail
Certifying orders
How to make specification fields in the database