In print templates isave.DIALOG can upload data automatically so the end user don't have to fill out everything manually. This can be done by linking data from the database to the template.
The four databases you can use to add data to the variables are "company", "group", "person" and "contact". Note that you at any time can create your own specification fields in these databases if the default fields do not meet your needs. Read more about making specification fields here!
Examples:
• Business card: A business card can collect the logo and web address from the "company" database, company addresses from "group" database and telephone and email from "person" database.
• Personalized letter: A personalized letter can collect company addresses from "company" database, department name from the "Group" database and name, telephone etc. from "person" database.
Connecting variables to databases:
1. Start by going into admin – template package/variables – variables on the template.
2. Click on the variabel you want to connect to a database.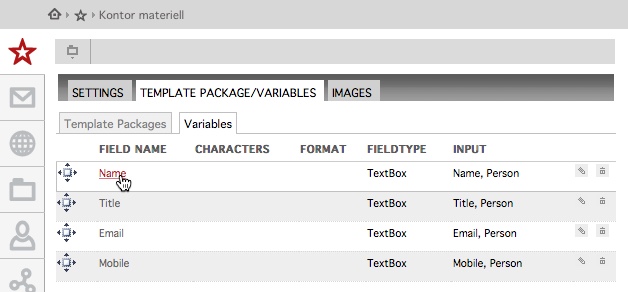 3. Under "field value", click "select input field".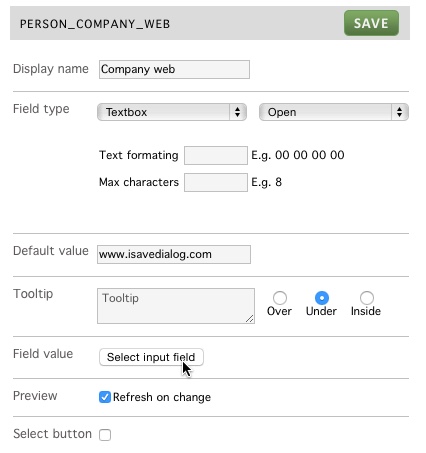 4. The button changes, click one more time on "select a database".

5. Choose the right database and field that the variabel should be linked to.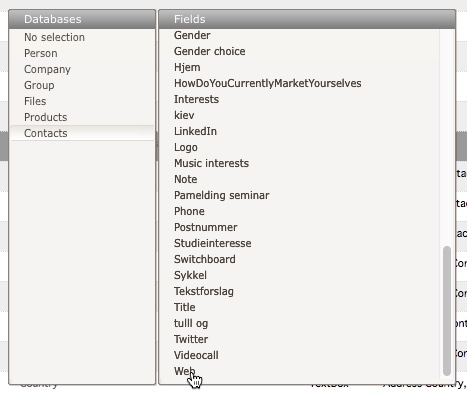 6. If you need to create your own list of specifications, this should be done under system – specifications – the right database. Read more about specification fields here!
Do you experience problems connecting variables to databases, contact us Isave AS, so we can help!
Related links:
Make a print document
Add suppliers
Add prices