For all print documents that are beeing ordered in isave.DIALOG, there are sent out an order e-mail to the supplier.
Note that it also sends an order confirmation on e-mail to the person who orders the product.
Note that if you have set up certification for the company, it will be sent an e-mail to the selected certifier, which must approve the order before the order e-mail will be sent to the supplier. Read about certifying orders.
Order e-mail to supplier
The top part of the e-mail will include the date for the order, ordernumber and this sentence: If you have any questions about this order please contact (agent siteName).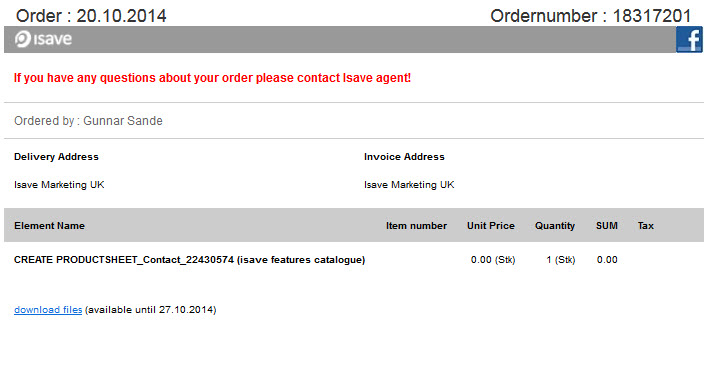 Order e-mail will be sent to
The order e-mail will be sent to the e-mail registered under the system – suppliers.
Sender of order e-mail
The sender of the e-mail will be collected from the e-mail field under system – company information – information on the agent side.
Subject-fields on order e-mails
The subject-field will follow this syntax:
(Company name) Order: (ordernumber) from: (agent site name) to: (supplier name)
Do you experience problems with your order e mail, please contact us in Isave AS, so we can help!
Related links:
Read about certifying
Order print products
How to make a print document