Under system – SMS admin i isave.DIALOG administrators can keep track on credits and get an overview of sent SMS.

Note! Only administrators of isave.DIALOG have access to SMS admin.
Credits
In SMS admin you can see the number of credits available, and you can buy new credits. You can also set up alerts if you are about to run out of credits.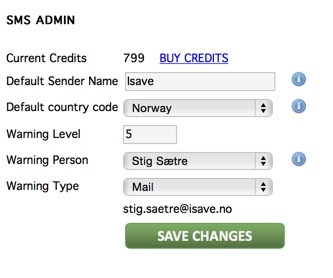 Codewords
Under SMS admin you can also find "add new codeword" or you can change the messages in existing codewords . Read more about incoming SMS here.

If you press the edit icon on a codeword it will bring up the window below. Here you can change the message that a user who submits the codeword will get in return. You can also update the list, and you can set up an email alert to yourselves when someone send a SMS.
Note! When changing a codeword it must be ensured that this codeword is available.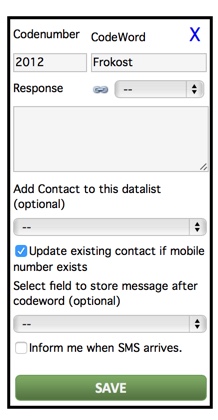 Do you have any problems or questions about SMS admin and passwords, please contact us in Isave AS, so we can help!
Related links:
Send SMS out
Incoming SMS